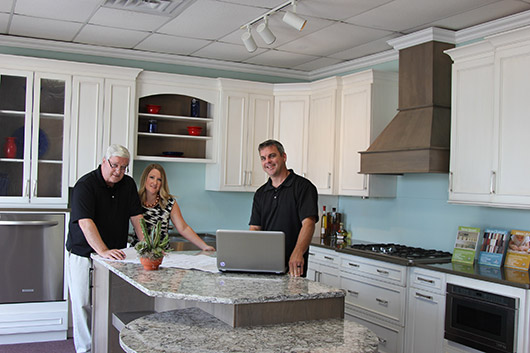 Welcome to Kitchen & Bath Ideas. My name is Doug Pauley and I am your host and the general manager of this beautiful and practical facility. We offer over thirty displays featuring the latest in the world of fine cabinetry. Please come by and experience old age quality coupled with new age technology with a down home presentation. We have an excellent staff of professionals with over one hundred years of expertise transforming our clients dreams into reality. We also service many of the local builders allowing us to keep our buying power right for true value in our offerings.
I invite you to come in, relax, and enjoy as we walk you through a pleasant and fact finding journey to discover how you can experience a room you love to be in and an investment that keeps on giving.
Did you know that the kitchen is the heart of any household? We spend more waking hours in the kitchen than any other room in our home. We also entertain more in the kitchen than any other room.
Did you know that a kitchen or bath remodel rates high on the scale for return on home spending?
What is the difference between home built, custom, semi-custom, and stock cabinetry?
What is catalyzed conversion varnish?
What is CFM, and how many do you need for your project?
What are the differences between solid surfaces, man made stones, and granite counter tops?
How do you establish a budget for project?
The warranty on cabinetry often reflects the quality you can expect. Have you asked about warranties?
These are just a few of the questions you need answered. We can help you. Stop by our store or contact us today.